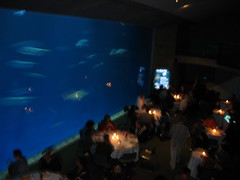 IMG_0174
Originally uploaded by Axel Larsson.
Pictures from
the SIGUCCS gala event at the Monterey Aquarium
are up.
jenniever
has many more Monterey pics in her camera. I'll link to those when she uploads them.
kingfox
and I gave our talks today. Both of them went rather well. I gave a talk about Drew's identity management projects and Russell talked about change management for desktop images.
The conference is almost over so we'll be leaving and heading down to LA tomorrow morning. We're taking the scenic drive along the coast, so we're expecting a nine hour drive with plenty of photo ops. Should be fun...